Disclaimer: this was originally posted on the IFC, so you will see some comments about how long it has been since I posted. To tell the truth, I am too lasy to rewrite anything so I just copy + pasted. Enjoy!
It's been quite some time since I made a topic on the IFC. In fact, it has been about eight months. I've now decided to end that streak with this topic. This past Friday, I flew on a plane for the first time since August of 2018, and I want to share my experience with you all.
My trip was from New York, where I live, to Raleigh, North Carolina, where I don't live. My family and I went to Raleigh so that I could visit some colleges in the area. I visited NC State University, University of North Carolina at Chapel Hill, Duke University, and Wake Forest University. If you are interested in any of these schools, please PM me and I would be more than happy to share my experience with you! (NC State was my favorite). But this is an aviation forum, not a college forum, so I will be focusing on the aviation side of my trip.
If you are a fan of Delta Airlines or New York - LaGuardia Airport, you may want to cover your eyes because what you are about to read is not quite… positive. Our departure was scheduled for 6:29 PM on Thursday, February 17 on an Airbus A220-100. This was Delta flight 2858. Unfortunately, this was not what occurred. Our flight got delayed multiple times, and finally, at 10:00 PM, 3.5 hours after our flight was scheduled to leave, Delta informed us that we would not be arriving in Raleigh anytime soon, because our flight had been canceled. The reason for the delays was weather, and obviously Delta is not the god of weather, but what was very frustrating was that they waited so incredibly long after our flight was scheduled to leave to end up announcing the cancellation. We waited in LaGuardia terminal D for 3 and a half hours after we were supposed to have been in the air.
As for LaGuardia Airport, I cannot stress enough how bad of an airport it is. This was my first time flying out of this hellhole, and my very first experience was, after winding through their maze of roads to get to where you need to be, Terminal D's (our terminal) parking lot was full. We ended up parking in the Terminal B parking lot, and this would not have been an issue had the operators of LaGuardia had the brains to figure out a logical and easy way to be transported between terminals. Here is a step by step process of getting from Terminal B to Terminal D:
Park in terminal B long-term parking
Make your way to where the shuttle buses pick you up
Wait THIRTY MINUTES for a shuttle bus to arrive that goes to Terminal C
Arrive at Terminal C
Walk about a quarter mile through a makeshift tunnel from Terminal C to Terminal D because the buses don't stop at Terminal D
Arrive at Terminal D
Now, I understand that LaGuardia is going through a massive renovation/reconstruction project, but the airport is already littered with "Welcome to a Whole New LGA" posters. At least be honest with yourself. LGA is not new yet, it's still the same old dump it used to be. On Thursday, our plan was to eat dinner at LaGuardia. We found three sit-down restaurant options; one of them had a waitress who was convincing us to NOT eat there because the wait was so long, another was not serving food because they were all out, so we went with the third. I ended up getting a steak sandwich, and it was actually pretty good. So, hey, there's something about LaGuardia. If you're looking for food in Terminal D, go to Prime Tavern and order the steak sandwich. I recommend it.
Also, I got this cool picture of Citi Field, home of my beloved New York Mets from a window in the terminal: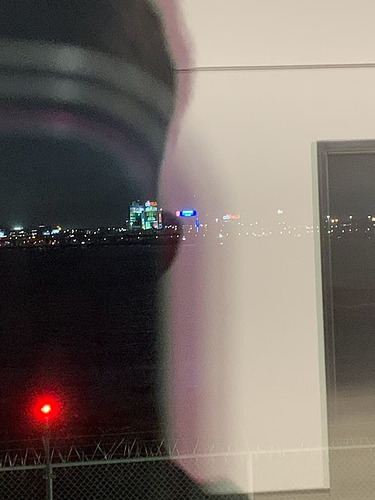 You will notice a recurring theme throughout this post. I am NOT a good photographer. If you want good pictures, I am not the person to go to

. I was equipped with an iPhone XR camera as well.
So, you may be wondering, what do I do now that my flight to Raleigh was canceled? If you guessed use our vouchers for a flight from John F. Kennedy International Airport for the following day, you would be correct! We went and slept at home and drove back to the other side of beautiful Queens, New York for our flight. And boy let me tell you, just about everything in JFK was better than LaGuardia. Here is my list of pros and cons of JFK:
Cons:
It is about an extra 20 minute drive for me down the god awful Van Wyck Expressway
Pros:
Everything else. There was not a single other thing that was better about LaGuardia.
At JFK, we were able to easily find a parking spot. They have a great AirTrain system which quickly and efficiently transports you between terminals and parking lots. The maximum waiting time for a train is 5 minutes, as opposed to the 30 minutes I waited for a shuttle at LaGuardia. Check in and security were a breeze, with no lines for either one. I got a Wendy's chicken sandwich for a quick snack before our flight, which had been delayed yet again. This time, it was Delta's fault. It's plain and simple, their crew was taking too long at Reagan National Airport, and that was their reason for the delay. But this did not affect us, especially coming right after the disaster of the previous day. This would be Delta flight 5619 on the Embraer 175. Our gate was directly opposite some international gates, so I took this photo of a Turkish A350: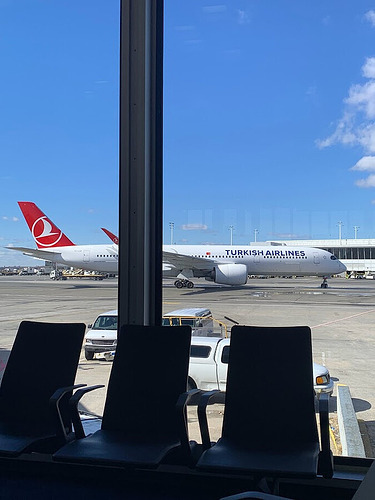 As for the flight itself, it was pretty pleasant overall. I was seated in the very last row of the plane, and i had a window seat on the left hand side. The takeoff was pretty bumpy, the flight was pretty turbulent, and we bounced on the landing, but the leg room was very nice on the E175 and the flight attendants were great as well. I was also able to beat XStep on Geometry Dash during the flight, so that's a plus. Here are some photos I took from the plane. Unfortunately, I was on the side of the plane that was not facing New York City, but I got some nice views of Long Island.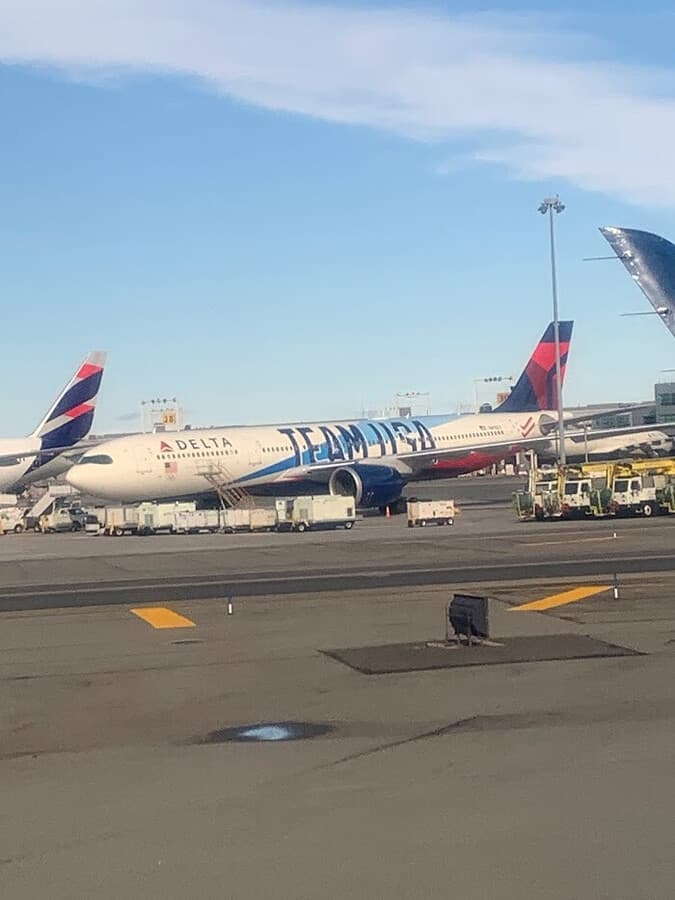 Delta Team USA Livery A330-900neo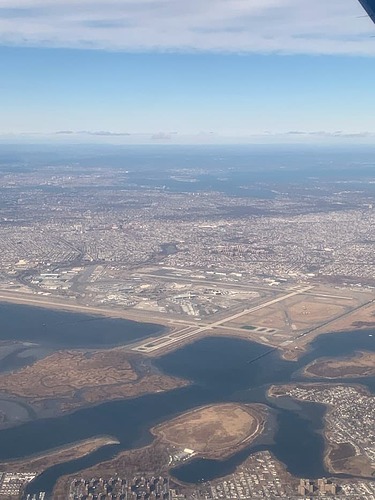 Aerial view of JFK where we had just departed from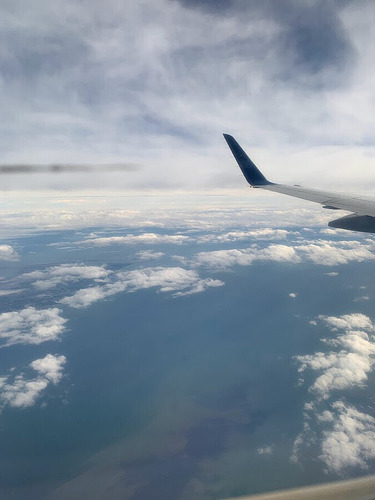 Looking out onto the Atlantic Ocean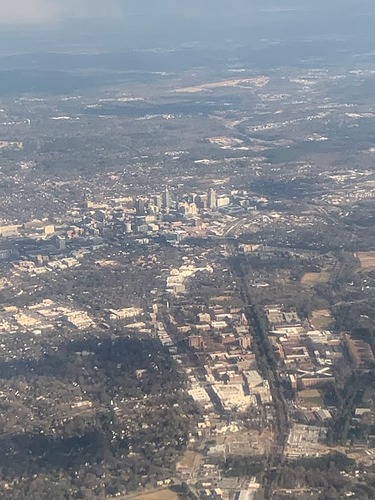 The city of Raleigh as we approached RDU
Once we arrived to Raleigh-Durham International Airport, it was very easy to get out of there. Baggage claim was easy to find, and we found a shuttle to Hertz just outside the terminal. What I thought was cool about RDU was that they had combined rental car buses, so our bus had Hertz customers as well as two other rental car companies which I don't remember. This made for a much shorter waiting time for the bus, as we didn't have to wait for the Hertz-only bus.
Now, skip a few days to Monday, February 21
This is the day we flew home. North Carolina was great, and on Monday it was warm enough that I could wear shorts. Getting to RDU from Raleigh was very easy with essentially no traffic. We dropped off our rental car back at Hertz and took a shuttle to the terminal. Raleigh-Durham is a pretty small airport, so check in and security were both very easy. Terminal 2, which services every airline except for Southwest, is easy to navigate, as it is essentially just a straight line on gates. This flight was not delayed, and coincidentally I was in the last row yet again. This was Delta flight 4882 on a CRJ 900. This flight was a lot smoother, and the landing was the smoothest I can remember. I didn't have a window seat for this flight, but I was still about to pick out Washington DC, Baltimore, and Philadelphia out of the left hand side window of the plane. Leg room was not as good on the CRJ as it was on the Embraer, but still sufficient. The flight attendants were, once again, very nice. Once again, I was unfortunately on the wrong side of the plane for a good view of NYC, and this one was very disappointing because we were landing at night, and a night view would have been great. I got this picture anyway by reaching over my sister who had the window seat. I'm not totally sure what is shown in the picture, but it's the best I've got lol.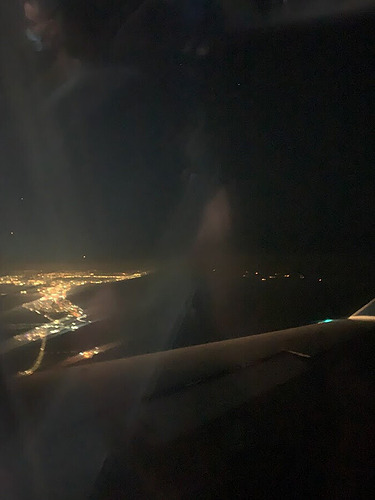 This flight felt a lot shorter than the first flight. We parked at the International terminal for some reason, and we had to walk about a quarter mile through the terminal to get to baggage claim, but there were people movers which made it sort of fun. We got our bags, took the AirTrain to the parking lot, and began our 1 hour and 30 minute drive home.
So, that's my experience of flying for the first time since 2018! I do sincerely apologize for ranting about Delta and LaGuardia, and for this topic being so long. If you made it this far, I'm honestly quite impressed that you have the patience to listen to me ramble on for this amount of time. Also, please keep in mind that this is solely my experience. If you had a better experience with Delta or LaGuardia, then good for you. My final takeaway is this: even as a New Yorker who lives north of the city, I think the extra driving time to JFK is worth it, it is just a much nicer airport. And if you can manage, avoid Delta as well. Raleigh Airport is great, however. Although I wish they had more spots to charge your phone.
Thanks for stopping by my topic! Here's a bonus picture of the Manhattan Skyline from the Bronx-Whitestone Bridge on my way to JFK. It's my personal favorite view of Midtown from any bridge.