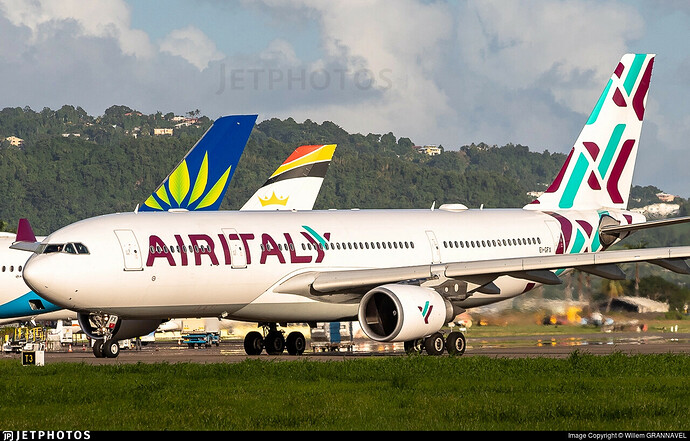 ---
Chapter 1: Alisarda
To find out about Air Italy, We go all the way back to 1963. You're thinking to your self: He's crazy, why go back that far. We need to go back To Alisarda. Alisarda Was an Italian Airline based in Olbia. They Were founded in March '63, and Commenced Operations in May '66. It was founded by Aga Khan. It was originally made to serve Costa Smeralda, a tourist destination In Italy. When Scheduled Operations began in '66, They used Nord 262 aircraft, which were replaced in '69 by the F27 Friendship. In '86, they took a 50% share of a brand new airline called Avianova. They Flew Year Round To Pisa, Bologna, Cagilari, Genoa, Naples, Olbia, Pisa, Roma and Verona. Frankfurt, Nice, Geneva, Munich, Turin and Zurich would all be operated on a seasonal basis. In '91, Alisarda and Universair Merged to Make Meridiana.
---
Chapter 2: Meridiana
Now That we are at Meridiana, I'm going to have to try to make this a tiny bit shorter.
Meridiana Was Formed In May '91 and it was a privately owned Italian airline. It was still headquartered in Sardinia and it operated both Scheduled and Chartered Flights to just about 60 destinations. In 06', they acquired a 29.95% share of Eurofly. In '10 Meridiana Fly was then created with the merger of Eurofly.
Fast Forward a bit to April '17, Qatar Airways announced they'd be purchasing a stake in the airline and complete a fleet modernization of 20 737 MAX 8's to be delivered in Q2 of '18. In October '17, it was also announced that the airline would also operate 787's and A330-200's. These ( the A332) would fly MXP to JFK and MIA. The fleet development plan was later transferred to Air Italy, and with that, Meridiana was re-organized into Air Italy.
---
Chapter 3: Air Italy
Air Italy was a Italiana Airline Which Started Operations on the 1st of March, 2018. It was headquarted in (you know where) and was the 2nd Largest Airline in Italy, behind Alitalia. They flew 737 NG, 737 MAX and A330-200's to 34 destinations. They mostly operated in Milan-MXP Airport.
Chapter 3.1 : Financial Troubles
Air Italy Collapsing in February '20 showed it's inability to cope with a number of challenges in the Italian Market where it's not so easy for airlines in that country. In 2019, the grounding of the 737 MAX did not help, mainly because they wanted an other source to help with their long haul flights.
Chapter 3.2 : Competition
When they launched full service shorthaul operations in Europe, they put up mostly against Ryanair and Easyjet.
Chapter 3.3 : Losing Money
In Mid September 2019, Air Italy lost 149 MILLION dollars, between March and September 2019. This would not really be normal for 2019, but expected from a Struggling Italian Airline. Alisarda S.P. A, which held a 51% stake, didn't really want to keep injecting money into a failing airline, which eventually caused them to go into liquidation.
Chapter 3.4 : Final Routes
On February 19, 2020, they opened ticked sales for LIN-OLB and FCO-OLB PSO routes and operated them until April 16th 2020, sealing the fate for the airline.
Sources

Alisarda - Wikipedia
Meridiana - Wikipedia
Why did Air Italy fail? | Analysis | Flight Global
Air Italy (2018–2020) - Wikipedia