RCW358 has also been in the HAS shelters at Conningsby for over a month now.
It is getting a conversion on the wingtips, and it will be demonstrating laminar flow for a while.
whats being done to the wingtips

However, this conversion will not be done for a while yet
an extension, like this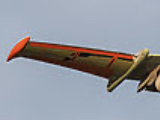 orange will now start offering authentic, handcrafted and 100% vegetarian Baklava from Hurrem's on all flights over 1:30hr long for business and first class passengers for free and economy and premium economy passengers for a price.
Due to multiple incidents of Chinese made metro rolling stock failing miserably, all such trains will be removed from service and new tenders will by announced in which Chinese companies won't be able to participate in. Till the new trains arrive, buses will run on the routes with right of way at a similar or increased frequency.
2 of RCAW's beech 350s have been ferried from Waddington to Hawarden today
The new railway standards have been set by the Ministry of Railways
Standard track gauge : 5 ft 6 in Broad (1676mm), 4 ft 8+1⁄2 in Standard (1435mm) for rapid transit and HSR
Electrification : 25kV50hZ AC OHE
Standard passenger coaches : LHB with AAR Knuckle/tightlock coupling.
UIC - LWSCZAC (2nd class), LWFCZAC (1st class), LDSLR (SLR), LWLRRM (EOG), LWACCNE (Economy), LWACCW (Couchettes), LWFAC (First Class Sleeper), LWSCZ (2nd class non airconditioned), LWSCZ (1st class non airconditioned)
Standard coupling : AAR Knuckle/Tightlock
Catenary height : 7.45m (24 ft 5+1⁄4 in) for DFC, 6m (19 ft 8+1⁄4 in) for passenger lines
Minimum line speed :
Passenger/Express trains - 160kmph (100mph)
Local/suburban trains : 130kmph (80mph)
Maintenance equipment : 90kmph (55mph)
50kmph (31mph) in ghats and curves
Signalling : iCBTC with Kavach TCAS and ETCS
Communication : 2 way radio communication amongst train crew and radar and 2 way radio communication with Train Control Stations and railway stations and boxes.
---
Ministry of Railways has started the implementation of iCBTC signaling system in addition to Kavach TCAS on all lines. All train operators have also been instructed to install the required equipment on their rolling stock by the end of May.